Help Now: Volunteer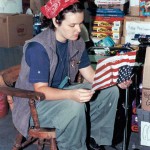 We use between 5 – 15 volunteers a day and more help is almost always needed. Our volunteers have found that working at the warehouse is a rewarding experience. Bellow is a letter sent to us by a group from Maryland that came to New York and volunteered with us. It is our hope that all volunteers walk away with a similar feeling. It has been our experience that helping in the clean-up and recovery efforts is a healing process.
Volunteer Activities Include:
Helping NYPD, FDNY, PAPD and other recovery personnel with supplies
Taking in Donations
Sorting and organizing donations
Delivering supplies to caches at ground zero and fresh kills
Answering phones
Making phone call to solicit donations
Loading and unloading trucks
Computer data entry
Creating Kits to be sent to firehouses
Cheering up recovery workers who frequently visit the warehouse
The warehouse is open from 9am to 9pm seven days a week. Please call the warehouse at (646)230-1664 to schedule a time to volunteer.