Immediate Crisis
We are sure everyone has heard that supplies are no longer needed. In theory this maybe true however in practice these supplies are not reaching the recovery workers at Ground Zero and Fresh Kills Landfill. The workers are often left without necessary equipment for days at a time with no clear idea as to when or if they will ever arrive.
Our warehouse is only 15 blocks north of Ground Zero and a short 20-minute drive to Fresh Kills landfill, where the debris is searched for victim's remains. This allows us to deliver supplies within hours of the order being put in. The red tape that exists in larger organizations slows and sometimes stops supplies from getting to where they are needed. This situation does not exist in our organization which is why FDNY, NYPD, PAPD and other city and state organizations have been turning to us to supply them with needed equipment.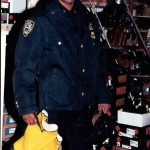 Clearly, there is a desperate and permanent need for a Special Operations Response Supply Team, with extensive stockpiles, such as ours, ready to supply rescue and relief efforts following large disasters. This team must have expertise in planning, and in storing the kind of supplies, in appropriate quantities (which we now have at the ready), needed in such circumstances. For example, we were able to rush respirators, filters and contamination suits to the American 587 crash site in Far Rockaway, arriving within one hour of the crash at 10:15 a.m., whereas the Salvation Army and Red Cross only arrived with knitted hats and food at 2:00 p.m. With additional support, we can do an even better job for Ground Zero and Fresh Kills workers, and can respond, in our rapid and targeted manner, to other situations where immediate provision of supplies becomes so crucial to the health and safety of workers, and to the effectiveness of rescue and relief operations.