Help the Firefighters, Police, and Volunteers at Ground Zero and Fresh Kills
To cite just a few examples, where we have been able, during the past week, to provide crucial items needed immediately and unavailable elsewhere.
Police and firefighters picked up morgue gloves for anthrax calls because Pier 92 (the main OEM Warehouse and Headquarters) had run out.
More than 12 OEM workers picked up boots themselves that they needed at Ground Zero. · The 1010 FDNY depot at Ground Zero needed (and we delivered them ASAP) boots, sweatshirts, warm socks, helmet lights, rain suits, work gloves, etc.
The 1010 FDNY depot had 150 respirator face masks with no filters to match. We fulfilled this order immediately from our supplies on hand, as we fulfill many more such orders daily.
Fresh Kills ran out of work gloves. NYPD detectives loaded up a van with our gloves and rushed them to Staten Island.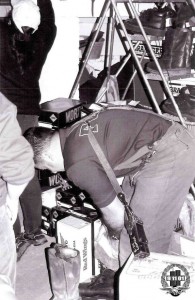 The men and women of the firefighters, police, and volunteers, now engaged in the cleanup operations at Ground Zero and at recovery of victim remains at Fresh Kills, Staten Island, are experiencing great difficulty in receiving needed equipment, because critical short supplies (due to confusions in the distribution chain) have developed for key items at various times–including helmets, rain gear, boots, and respirators.
Our solution has been to develop a band-aid operation, from our depot in 304 Spring Street, to fill gaps in supplies on an emergency basis. We have been furnishing the Red Cross, the Salvation Army, and Police and Firefighting supply posts, fulfilling their urgent requests for equipment that has become difficult to get on an immediate basis from normal channels. Our operation is entirely self-financed and volunteer. We charge nothing for any item, and we acquire material through our own purchases and from contributions.
We know that we have been effective in this specific but vital aim of delivering equipment in emergency short supply. In larger perspective, we would like to help by working with people to achieve better organization of the supply efforts. The system for emergency supply is clearly not always working, and the situation often becomes critical. We are also concerned that OSHA rules of safety compliance, especially for use of respirators at Ground Zero, are not being followed by the great majority of workers, whose health is thereby endangered.
– Stephen Jay Gould and Rhonda Roland Shearer, October 10, 2001